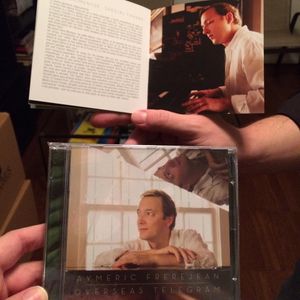 It's been years in the making and my album is ready at last ! It all began back in 2003: after listening to my heart, dropping a promising legal career and completing a transitional year in a jazz school, I was hired as a pianist at Le Boeuf sur le Toit, a legendary restaurant around the Champs Elysées and one of the birth places of jazz in Paris. I played there for eight years and met people from all around the world. Watching them wine and dine, flirt or fight while I was playing the piano was a great source of inspiration. I could see how they would react to the soundtrack I would create for them live.
I remember improvising for a beautiful couple exchanging love glances that didn't need any subtitles or watching a wife bursting into tears as I played a special song her husband had discreetly asked me for. These special requests were very diverse and made my repertoire grow quickly. Often the original arrangement was not fit for piano and since I had to change them I would go a little further and speed or slow them up, change the chords, adding my special twist ! "Overseas Telegram" features two of these creative covers: Stevie Wonder's "Overjoyed" and Tina Turner's "The Best".
In Paris, I met my wife Paula who is Brazilian and we have been living in São Paulo for the past five years. I fell in love with her and her country and I am now a nearly Brazilian Frenchman singing in English ! Many of the songs on the album were written in Paris and recorded in São Paulo and literally are overseas telegrams: they try to say as much as possible in a few words and are the fruit of my physical and artistic journey. 
What does it sound like ? I am often compared to Jamie Cullum or Michael Bublé because of my voice but my musical influences go well beyond jazz and include people like Stevie Wonder, Michel Legrand, Elton John or Billy Joel and styles like classical or world music. Make your own opininion listening to the album with the music player at the bottom of the screen ;-)

The album is ready and a whole new chapter is beginning: I am creating the website, starting this blog, and diving in the social media universe! I would love to have your feedback and hear your suggestions. If you want to help, please like and share my Facebook page using the button on the right column of this page.

Merci beaucoup, et à bientôt !